3 Reasons Your Business Should Use Custom Vehicle Wraps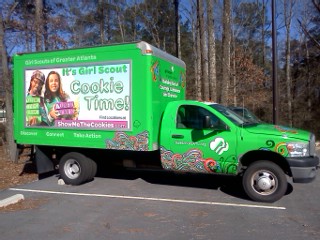 Are you looking for new, out-of-the-box ways to advertise your business and reach the largest prospect base without breaking the bank? While large-format billboards, digital ads, mobile advertising, and localized marketing campaigns can help spread the word, creative marketing will always serve you well.

Custom vehicle wraps and vehicle graphics provide cost effective promotion while protecting the vehicle from dings and scratches. If your business isn't currently using vehicle wraps to advertise, you are missing tons of opportunity for impression to drive your messaging home – pun intended. Let's explore some ways custom vehicle wraps might be the smartest marketing solution your business can invest in.
---
Vinyl vehicle wraps provide 24/7 cost effective promotion
The average vehicle wrap costs just $2,000. Considering that the average small business spends up to 40% of its annual budget, investing in custom vehicle graphics is affordable, and effective. Especially if you choose to wrap your personal vehicle or provide an incentive for team members to wrap their vehicles, you gain immediate, lasting brand exposure everywhere that that vehicle travels or parks; well-worth the up-front investment. If you already have vehicles on the road, whether it be your POV or fleet vehicles, wrapping them offers immediate results with low initial investments, without affecting the look of your personal vehicle.
Vehicle wraps offer a creative way to advertise special deals
One way to capitalize on custom vehicle wraps and get even more mobile advertising is to run a "Where's Waldo-esque" social media content challenging members of your target community to find and post photos of your wrapped vehicle, tagging your company in the post to maximize Opti channel reach. Another idea is to have a QR code printed on your wrap that potential customers can scan for discounts on your service or product. QR codes can be set to any landing page which means you can change your discount with the season without having to change your vehicle wrap.
High quality wraps protect your vehicle
Managing a fleet of vehicles is a significant investment for any business. These vehicles pull double, triple or multiple duty, used for passenger transport, deliveries, and more. Making a good impression on the general public is crucial, so your vehicles must be in optimal condition.

Vinyl wraps protect your vehicles and keep it free of nicks or scratches from everyday driving, preserving your paint job. Wrapping also increases your vehicles' lifespan, saving you money on the backend since you aren't purchasing new vehicles as quickly. No matter how you slice it, if your goal is to get effective, creative mobile advertising and be able to drive your vehicles longer, it's time to consider vehicle wrapping.
---
Convinced that custom vehicle wraps should be your next marketing investment?
Contact us today to start planning your project.
---
Contact Us Now for More Information
Phone: 770-424-2300