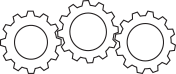 Graphic Solutions Group
Privacy Statement
It is Graphic Solutions Group and its affiliates' and subsidiaries' policy to respect and protect the privacy of our customers and users of www.gsghome.com and all other websites and mobile text programs operated by Graphic Solutions Group (hereinafter, the "Site"). Through this Privacy Statement, we want to reassure users that we will not sell, share, or rent user information to others in a manner different than in this Privacy Statement. By accessing the Site, you agree to be bound by this Privacy Statement. If you do not agree to the terms of this Privacy Statement, please do not use the Site. Each time you use the Site, the current version of this Privacy Statement will apply. When you use the Site you should check the date of this Privacy Statement (which appears at the top) and review any changes since the last version.
Gathering and Sharing of Information, Links to External and Co-Branded Websites
We monitor traffic patterns on the Site for aggregate use to analyze trends and administer the Site to improve its layout, design, and provide unique offers to users. We also monitor traffic patterns to permit Site personalization and streamlining to create a positive shopping experience for our users, this is known as behavioral marketing. To perform analysis permitting such personalization and improvement, we may employ third parties with whom we share the information necessary to accomplish these objectives. These statistics include no personally identifying information.
Where appropriate, we share aggregated statistical information with our business partners. These statistics include no personally identifying information.
Except as stated below, we will not share, sell or rent your e-mail address or mobile phone number to third parties. But, we may do so between our affiliates and subsidiaries. We may, however, share e-mail addresses or mobile phone numbers with reputable third parties in order to help us provide better services. These third parties agree not use your information for their own marketing purposes.
We may provide personally identifying and/or account information in special cases such as enforcement of our Terms of Use, as required by law or legal process to protect and defend the rights and safety of Graphic Solutions Group, our Site, and its users. This includes exchanging information with other companies for purposes of fraud and credit risk reduction.
Our Site also contains links to external Internet sites as well as co-branded sites, which may be operated by an external party. These sites may have privacy practices different from ours. A co-branded site is a website, usually operated by a third-party, and which displays that third-party's name along with the Graphic Solutions Group name and logo. Such co-branded sites offer goods or services to our users. When you click on links that take you to such external or co-branded sites, you will be subject to its privacy policies, and we encourage you to become familiar with that party's privacy policies as these may differ from ours. Please note that this Privacy Statement applies solely to information collected by Graphic Solutions Group on our Site and, while we strongly support the protection of privacy on the Internet, we cannot be responsible for the privacy practices of other websites, uses of the information collected by other websites, or the content of those other websites.
Consent
By using our Site, you agree to the terms and conditions set forth in this Privacy Statement and the Site Terms of Use INCLUDING ALL LIMITATIONS OF DAMAGES PROVISIONS, which are an integral part of this Privacy Statement. By using our Site, you also consent to the collection and use of this information by geographics.com as disclosed in this Privacy Statement.
Surveys, Sweepstakes & Contests
From time-to-time we may request information from the users of the Site via surveys, sweepstakes or contests. Participation in these surveys, sweepstakes or contests is completely voluntary, and the users of the Site have a choice whether or not to participate. Information requested may include contact information (such as your name and shipping address) and demographic information (such as zip code, age level, etc.). We use such information to notify contest winners, to award prizes, and to analyze the Site traffic to improve the user's experience on the Site. All participation in such surveys, sweepstakes and contests are subject to the applicable rules and terms and conditions.
We have no affiliation with a Texas based corporation named Graphic Solutions Group that offers various goods or services pertaining to graphic screen printing equipment, textile screen printing equipment, digital sign equipment, embroidery equipment, and related supplies.
That company may be reached at 1-800-366-1776.
Contact Us
Are you looking for a printer who can help you meet your deadlines?
Then your in the right place! Have any questions or concerns we would love to hear from you.
Please submit your information in this form and a sales professional will reach out to you.