7 Considerations for Trade Show Event Signage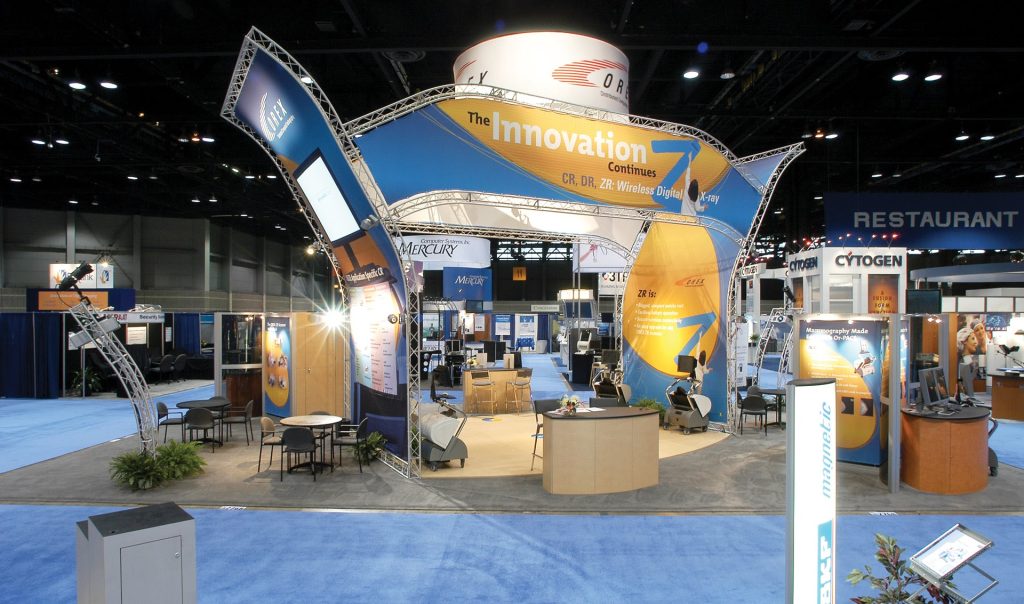 Trade shows are the second-largest source of B2B revenue in the United States, with 2019 numbers passing 15 billion dollars. Trade shows offer opportunities to help develop your brand, target your ideal prospects/leads, and network with other relevant businesses.

The return on investment (ROI) potential is HUGE, but cashing in on it is no easy task. With so much competition vying for the same support, how can you help your brand or product stand out from the rest and empower all three of these goals to come to fruition? Eye-catching and engaging signage and trade show displays! Whether you're far from a designer or just not the most creative professional on your trade show team, don't stress! We've pulled together a list of tips to help elevate your trade show signage.
---
Consider these seven tips to help your signage stand out and make your trade show results more successful.
Use design to make your brand stand out
Do you know that different colors, typographies, and messages attract people differently? For example, warm, bold tones like red and orange are engaging and eye-catching but aggressive if overused. So, before choosing the design and theme for your next trade show display, do some research to identify the tones and colors that best speak to your target audience. Then, by wisely incorporating them into your booth design, you'll draw the audience you want!
DON'T go big or go home
The biggest part of most trade show exhibitor's budgets goes to the space where their event booth will live. Contrary to popular belief, though, bigger isn't always better! If you're advertising a small product, or are a smaller company at a given event, investing in substantial trade show display space can feel over-the-top. Instead, use bold signage in your booth to highlight your space – without blowing your budget.
Remember that space is your friend
Strategically utilizing white space can be just as important as the event signage and graphics you choose. Research shows that booth graphics using 40% empty space help draw visual attention to the product/booth you want to highlight, instead of cluttering your space. The back wall of a booth naturally draws the eye, and is a great place to put your logo, slogan, or product highlights. It's also important to consider how people will flow through your booth and the event space. A basic consideration of traffic and how people will interact with your event signage can help you set your booth up more accessible.
Be engaging
Interactive trade show displays are all the rage, especially as more people are used to immersive technology and being constantly "plugged in" to the world around them. Engaging features like touch screens and virtual reality are obvious winners, but don't underestimate the unexpected power of "old-school" engagement options like giveaway spin wheel to draw prospects to your display.
Utilize Branded Promotional Items
What sporting event is complete without staff tossing free swag into the excited crowd? Incorporating give-aways or branded swag into your trade show displays will never fail because everyone loves free stuff – as long as it's useful and memorable. As you consider what swag to bring to your next trade show, think about what YOU would enjoy receiving. Stress balls, calendars for the upcoming year, and post-it notes or branded notebooks are easy crowd-pleasers and help keep your brand or product top-of-mind when they use it.
Simple messaging is better
Just like space utilization, when it comes to the messaging on your event signage, less is more. Strive to keep your communications clear, effective, and engaging. The more complex or high-level your trade show signage is, the less quickly passersby (and possibly your ideal customers!) will be able to read and process who you are and how you can help them, which is the whole point of hosting your booth!
Remember that who you bring matters
Even if you have the best product/service at the trade show, you'll be losing customers without the right people representing your brand and interacting with booth visitors. Think of your trade show reps as walking event signage: the warmer, more knowledgeable, and helpful they are, the more event attendees will visit your booth, engage with your team, and with hope, purchase your product or services.
---
Whatever the purpose of your next trade show, Graphic Solutions has the experience to help you design the perfect signage and booth display to keep your team busy all trade show long! Contact us today.
---
Contact Us Now for More Information
Phone: 770-424-2300