Advantages of the Every Door Direct Mail Program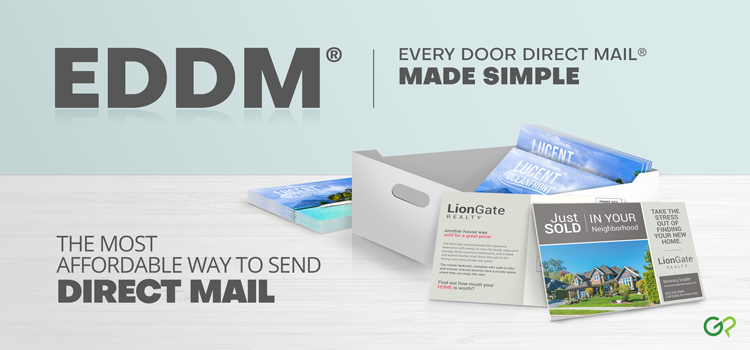 The Every Door Direct Mail program (EDDM) is a post office program that helps small businesses better promote themselves in their local community. Instead of having to create and execute a market research campaign, EDDM mailing lets you map relevant ZIP codes and neighborhoods and then use U.S. Census data to filter the results by the demographics you designate such as the age and income of your target audience. Thanks to the competitive rates provided by the postal service, the ROI on postcards and other EDDM printing items are strong.
---
EDDM Mailing Program Options
When it comes to EDDM printing, there are a number of sizes and formats available to your business. For example, you can mail maps and calendars and postcards that contain an in-depth description of your available products or services.
Keep in mind that there are two ways to create your own Every Door Direct Mail program and get them to the post office for delivery. The two methods are Every Door Direct Mail – Retail® (EDDM Retail) or EDDM bulk mailing at a Business Mail Entry Unit (BMEU).
EDDM Retail Features:
Ideal for small businesses as well as local restaurants, realtors, and political campaigns
Ability to use an account on USPS.com
Send anywhere from 200 to 5000 mail pieces each day (per ZIP Code)
Simply drop off the EDDM mailing at the post office
No need for a special mailing permit
Pay (in advance) online or simply pay at the post office
EDDM BMEU Features:
Ideal EDDM options for large volume mailers
Business Customer Gateway account lets you prepare and enter your bulk mailing
No limit on the size or volume of the mailing for multiple zip codes
Drop off your mailings at a USPS mail processing center (BMEU)
Easily pay with a bulk mailing permit
---
USPS EDDM Mailing Program Options
Local Area Marketing
EDDM does not require a mailing list, and this saves you money since you do not need to purchase a mailing list with addresses and contact information. EDDM requires a mail carrier to take the mailing to each household along your designated route without needing individual addresses. This allows you to focus on delivering your ad into the hands of consumers in an efficient manner. You identify the carrier routes and the dropping date while letting the postal service handle the delivery.

No Postal Limits
Mailings of a specific quantity (such as 200–5000) do not require the purchasing of a postal permit. The postal service gives an EDDM permit you can add to the mail pieces. This permit ensures postcards are not mailed with mass mailings which provides huge savings in both cost and time.

Discount Offers
EDDM is direct mail marketing with the ability to deliver discounts directly to customers. This helps to retain customers while also attracting consumers who have not made a recent purchase. Businesses such as shoe stores and cosmetic products often use coupons as incentives for customers to visit their store again to redeem a discount code and even purchase items they might not have considered before visiting the store. Your EDDM ad can explain the appeal and the benefits of the products.

Cost-Effective
EDDM is a cost-effective way to advertise a small business. Your company can design an eye-catching brochure or postcard, print it at an affordable price and then mail it at low postage rates to track its success while making any necessary quantity adjustments. You can also reduce costs by not mailing long distances.

Easy to Target/Set-Up
EDDM can be highly targeted since the campaigns are destination focused and directed at customers with a purchasing history who are likely to act on the marketing message. All you have to do is print your postcards or brochures, gather them in bundles with a facing slip, and deliver them to the postal service. The USPS will handle the actual act of delivering them.

---
Contact Graphics Solutions Group for help getting your Every Door Direct Mail program launched today!
---
Contact Us Now for More Information
Phone: 770-424-2300