Binding Design Considerations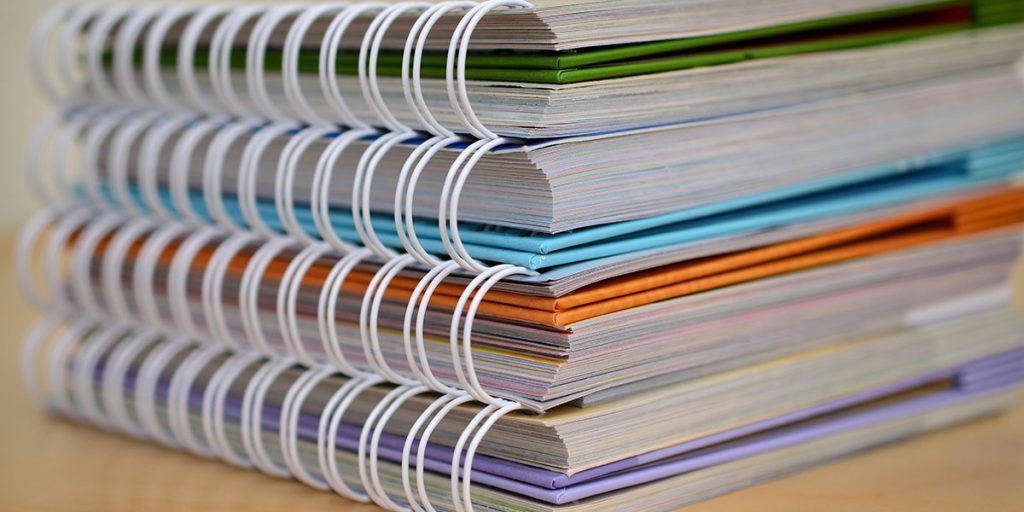 When it comes to publications, the binding design is the element that holds the pages of books, catalogs, magazines, and pamphlets together. There are multiple types of book binding design options and they include (but are not limited to) coil and saddle stitching. When you are starting the process of creating the print design for a bound publication like a catalog, it is important for you to understand pagination AKA how the pages are ordered in the document so they will be printed correctly and easy to read.
Take a look below to learn more about the considerations to keep in mind when it comes to designing your book binding.
---
Different Types of Binding
Sewn Binding
This is a strong, durable binding option where the pages inside the publication are sewn together in sections. While the standard thread color is white, you have the option of ordering different color threads.
Glued Binding
A binding choice that is also known as Perfect Binding. The pages are bound together through the use of a layer of flexible adhesive. This is a popular option thanks to its durability and low to medium cost.
Lay-Flat Binding
A binding choice that is ideal for soft cover books with endpapers and the cover spine is not attached to the book content spine. This design choice makes it possible to lay the book flat when it is opened while also providing the cover spine with an appearance similar to hardcover books.
Spiral
Both softcover and hardcover books that are bound with a spiral coil (of varying colors and sizes) can open flat and provide a 360-degree rotation. Ideal results are gained on products no thinner than 6mm or thicker than 24mm.
---
Work Graphic Solutions Group on Pagination
Pagination is a process that can be somewhat confusing since the way a document is printed is not always the way it will be viewed in a page layout program. InDesign lets you switch to either a reader spread view or a printer spread view. Changing the document to printer spread view makes the pages appear out of order. However, the printing press needs the document in this format so it is able to print the pages as well as fold and bind them properly. (FYI: This is a process known as imposition). Although the InDesign allows you to impose some files we recommend that you leave that to us. This leaves us the freedom to make press sheet size changes as well as adjusting for creep (shingling) in thicker projects.
---
Other Considerations When Printing a Bounded Booklet
Keep in mind that, while you might think changing your document to a printer spread view is doing your printer a big favor, that is not the case! Keep the document in a reader spread view as modern prepress systems have the ability to convert your documents correctly. In other words, there is no reason for a confusing printer spread. In addition:
Be sure and include blank pages so you have the right number of pages for your piece
Consult with Graphic Solutions Group with any pagination questions
Ask your sales rep about the minimum (or maximum) numbers of pages needed for your binding format of choice (as well as the necessary multiples of pages)
Always ask for a proof so you can check the project before it is printed
---
When you are ready to start your next book binding project, our team is here to help you.
---
Contact Us Now for More Information
Phone: 770-424-2300