Drinkware Promotional Products Guide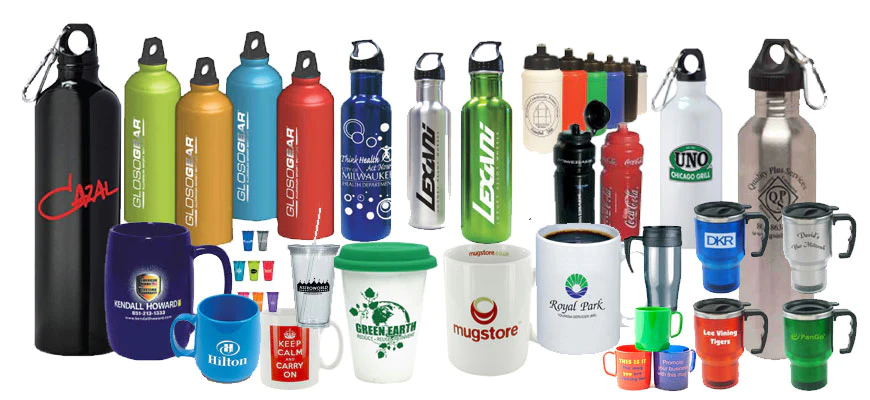 Custom drinkware is one of the most popular promotional product categories because it is useful on a daily basis. Promotional drinkware items such as reusable water bottles and travel mugs have grown in popularity as people try to reduce the waste created by disposable plastic bottles and coffee cups. Buying drinkware, such as promotional tumblers, that include your logo is great for branding purposes as well as showing your commitment to the environment.
The toughest part of shopping for drinkware is narrowing down your choices since there are so many options available. The decision should be made by keeping your target audience in mind as well as the intended use of the product. If you are not sure where to start, we have some of the most popular reasons to use custom drinkware in the next section.
---
3 Reasons To Include Custom Drinkware In Your Promo Kit
Everyone Can Use a Quality Travel Mug
Insulated travel mugs are perfect for anyone on the go to work, school, a road trip, running errands, outdoor activities, and more. Everyone needs to stay hydrated each day and drinkware is the perfect promo kit choice. Stainless steel does not rust, puncture, or produce condensation and these mugs tend to last forever thanks to their durability. They are the perfect choice to keep drinks hot or cold during any season.
Impressions from Insulated Mugs Build Your Brand
Some people might spend more time with their drinkware than family or friends. They take their mug on their work commute, to their office desk and even use it at home or on vacation. No matter where they go, your logo is prominently displayed for others to see.
Insulated Mugs are Eco-Friendly and Safe
These mugs are made to last with stainless steel. They also reduce waste that can be caused by cheaper, disposable options. In addition to helping the environment, an ASI global ad impressions study found companies that use eco-friendly promotional products gain higher opinions from 42% of consumers.
---
Types of Customized Drinkware to Use
The first step is to establish your promotional drinkware budget which includes the shipping cost. Heavier items like promotional tumblers and mugs cost more to ship than lightweight items like can coolers and coasters. Once you have your final budget in mind, you can focus on choosing your drinkware category.
Water Bottles:
These on-the-go items vary mostly by material (metal or plastic) and top. Sports tops are ideal for active users as they can be held, opened, and closed with one hand. Some water bottles have lids and straws but they can also leak. Screw-tops are ideal for travel because they are less likely to spill.
Glasses:
Glassware comes in a variety of shapes and sizes and is ideal for restaurants and bars. Print your company logo on water, wine, champagne, beer, and shot glasses to grow your branding at parties, weddings, and corporate events.
Mugs:
Mugs for restaurant branding come in ceramic, acrylic, and glass. Travel mugs are ideal for active people who are looking for an insulated item to hold their beverage. Mugs make great gifts when you fill them with candy or include a reusable straw.
Cups:
Plastic cups are ideal for outdoor events and trade shows. Disposable cups are best for large gatherings as you can reach more people while spending less money per unit. Reusable cups make a smaller impression and they are best used over a longer period of time. Your budget and type of event helps determine which option is the best choice.
---
Promotional Drinkware Accessories
Drinkware accessories are available in a wide range of choices. Keep these items in mind as you start to plan your holiday gifts for loyal customers as well as employee gifts. Some of the most popular choices are:
Can Coolers
Coasters
Corkscrews
Decanters/Carafes
Drink Trays
Flasks
Pourers
Shakers
Stirrers
Wine Chillers
Wine Globes
Wine Stoppers
---
Custom drinkware is an ideal promotional product throughout the year so when you are ready to choose your drinkware, we are here to help.
---
Contact Us Now for More Information
Phone: 770-424-2300