Marketing Your Business with Custom Door Hangers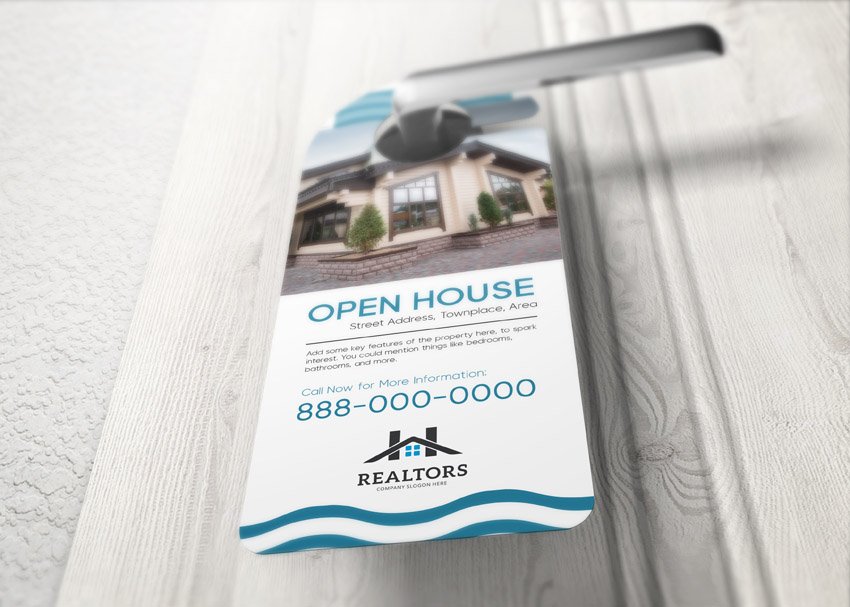 Have you ever come home on an empty stomach with no idea what you want for dinner? Suddenly, the answer is in front of you in the form of a custom door hanger! Printed door hangers on a doorknob let you know a new BBQ restaurant is now open in your neighborhood or they share the full menu of a Chinese restaurant that is just around the corner from your home. This effective marketing tool can also include a door hanger design that is a small flyer that can be placed in the front door of a home or apartment.
If this has happened to you in the past, you know how effective this marketing method can be in driving business. However, it is sometimes a "forgotten tool" when it comes to advertising businesses. Custom door hangers should always be kept in mind as they are both inexpensive and easily noticed by your target audience. In order to show you why this marketing technique is a good fit for your company, we are going to review the benefits of door hanger marketing and share a few tips to grow your response rates with doorknob advertising.
---
Benefits of Using Printed Door Hangers
Even though custom door hangers are sometimes referred to as just another type of postcard, they deliver multiple benefits over postcards and direct mail campaigns. Here are the main benefits they provide small businesses:
They are more noticeable than traditional postcards because door hangers are delivered directly to the door of the intended audience as opposed to being lumped in with mail in a mailbox. However, door hangers are virtually impossible to ignore. Think about the fact that official notices such as utility updates and missed deliveries are often placed on doors using hang tags. Because the public is used to having important information placed on their door, they will likely read your messaging.
Door hangers are an inexpensive marketing method. In fact, the printing cost is often as low as 2-8 cents per unit with the final price depending on the volume and the cost of design services. Since printing door hangers is such an affordable option, they are an enticing marketing option for businesses that need to stretch their marketing dollars.
---
Five Secrets that Make Door Hanger Campaigns Successful
Keep the tips and tricks below in mind when planning your upcoming printed door hanger campaign to ensure its success:
Know When to Distribute the Hangers – Door hangers should be part of a full print marketing campaign and function as support to billboards or radio and TV spots. They should be distributed around 3-4 weeks before a sale to give customers a chance to plan ahead and budget for a purchase. A service type business might put door hangers out at the end of a job. Foe example, a junk removal business might place 20 door hangers at the end of each pick-up they perform. The main thing to remember is to distribute the offer when it makes sense for a sale and allow enough lead time for the door hangers to make an impact.
Keep Door Hanger Marketing Simple – Make sure your marketing message is thorough without being confusing. In other words, do not promote more than one aspect of your business on the hanger. An overload of information will confuse potential customers which might cause them to ignore it and put the hanger in the trash. Try adding white space between multiple blocks of text to make reading the included information easier for the public. White space is an open space between two areas that makes the text and design feel more open and helps hold the attention of the viewer for a longer period of time.
Hierarchy of Text – A headline that is big and bold is an eye-catching way to grab attention. Follow the headline with mid-sized text that includes more details and information on the offer, product, or service as well as how consumers can contact you (such as a phone number that is relatively large in size). Make sure the font sizes of your hierarchy levels differ enough in size that viewers can spot the most valuable information first. Size differences also add a contrast that allows the public to quickly and easily read the door hanger copy.
Powerful Images Make a Difference – Door hangers are often small, so you need powerful imagery to draw the attention of the public. Once the visuals get the attention of consumers, they are more likely to read the door hanger text and either save it or follow the "call to action" right away. Stock photo sites feature high-quality photos that you can download and include in the door hanger design. Even if you do not include a photo of a person or object, you should use a compelling background design or color on the final product. If the text is not readable over the background, add a block of color behind the text to add contrast and make the text stand out on the door hanger.
Track the Results – The most effective way to evaluate your door hangers ROI is by tracking your responses. In the past, businesses offered coupons on the door hanger content. They measured the coupon utilization to know how effective their campaigns were and used that information to plan future campaigns. You can also engage with customers using QR codes. Connect any URL to a QR code to measure page views and get a better idea of the total amount of consumer engagement.
---
Door hangers make you stand out from the competition and grow your brand recognition. Call us today to start planning an upcoming door hanger campaign. office.
---
Contact Us Now for More Information
Phone: 770-424-2300