Pocket Folder Design Considerations & Templates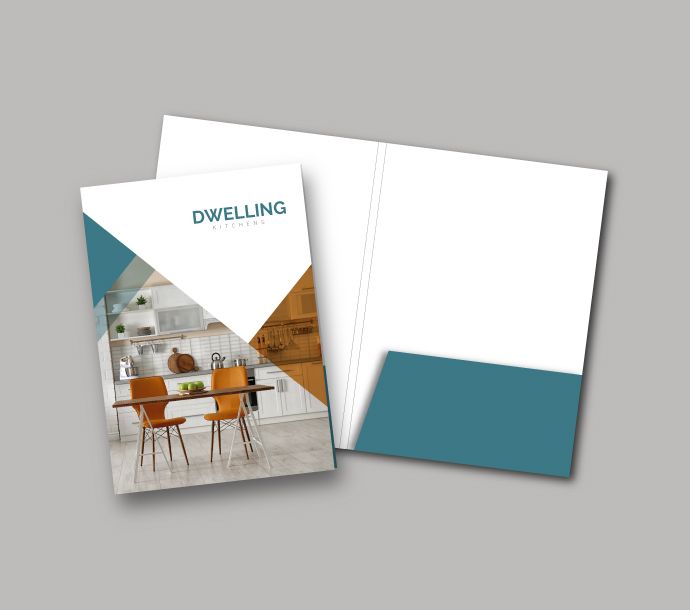 Pocket folders are useful in many business and academic situations. Depending on your specific needs, there are multiple folder designs including two pocket or three pocket folders, folders that contain business card slits and even some folders with viewing windows. Each of these types of pocket folders can be used as part of a sales or press kit that highlights important information about your project as well as promoting items that showcase your products or services to interested parties at trade shows. Printed pocket folders can make a positive first impression by containing marketing materials you can leave behind for prospective leads. Custom pocket folders also work as a welcome packet for new employees by containing all of their training and employment forms in one branded folder.
When deciding how to use pocket folders, keep the design considerations discussed in this blog in mind.
---
Design Considerations
Set Up Your Pocket Folder Print Document Correctly
When creating a pocket folder layout, be sure and create the document at its final flat size (what we need to print the folder). For a standard 9×12″ folder with 4″ pockets, the flat size will need to be 18×16″. In order to achieve this, you can create the layout as two 9×12″ pages as well as a separate 4×12″ two page document for the pockets. Keep in mind that they will have to be assembled into an 18×16″ document before sending the files to Graphic Solutions Group. You also need to rotate the pockets 180-degrees when placing them under the covers. Not sure how to lay out your pocket folder design? Use one of the templates we discuss later in this blog.
Consider Including a Business Card Slit
Common business card slits include four angled corners along with two angled corners, and half moon slits. There are other design options such as butterfly slits and notched tabs. Whichever pocket folder designs you like the best, check to see if we have a standing dieline for your choice. If not, the creation of a new dieline can add extra costs to your project. Business card slits normally go in the center of a pocket. You can place the slits anywhere on the pocket but a new dieline might need to be created. A two pocket folder can have business card slits on one or both pockets. Vertical business cards might need half moon slits or notched tabs on both sides as a 4″ pocket will not have enough room for corner slits.
Get the Bleed Right
When creating a pocket folder document, all of your bleeds should extend at least 1/8″ from the edge of the document. In addition, bleeds from the cover and back cover should not extend into the pockets. Your bleeds only need to extend 1/8″ from the edge of the document. If you design your pocket folder as separate pages, with the plan to assemble them into a larger document, be sure and adjust the bleeds properly
Add an Overall or Spot Varnish – Pocket folders are handled on a regular basis so it is best to ask your sales rep to add a varnish or coating to them. If you want a spot varnish, you need to create the files for the spot varnish. Just like bleeds, the varnish file should not extend over the tabs of your pocket folder. Be sure and create the spot varnish on a separate layer from the design.
---
Understanding x-Height
Once the design considerations are settled, you are ready to start designing the type of pocket folder you want to use. Below are some common types of folders and their uses. Have another design in mind? No problem! We have design templates for the folders listed below along with many other pocket folder design types.
One Pocket Folder
Commonly used to hold folded letters, documents or stepped sheets. You should not print in the glue tab area or the attachment surface area. You might want to add gussets to hold numerous page inserts. You can also add a die-cut for easy business card insertion.
Window Die-Cut Business Report Cover and Back Sheet
This design template is used in conjunction with 8.5×11 printed or imaged pages. This format is ideal for professional business proposals and meeting schedules. You can also add an extra binding touch with a wire or plastic spine clip.
Glued Two Pocket 3-Panel Folder
This design is best used to hold letters, sales sheets and product/service information. You might want to use a boxed/gusseted spine for easier holding of numerous page inserts. Die-cuts can be included for business card insertion purposes.
---
Now that you have your printed pocket folders designed and ready to go, Graphic Solutions Group's team is ready to help make that happen!
---
Contact Us Now for More Information
Phone: 770-424-2300