Promotional Pens & Other Branded Office Supply Ideas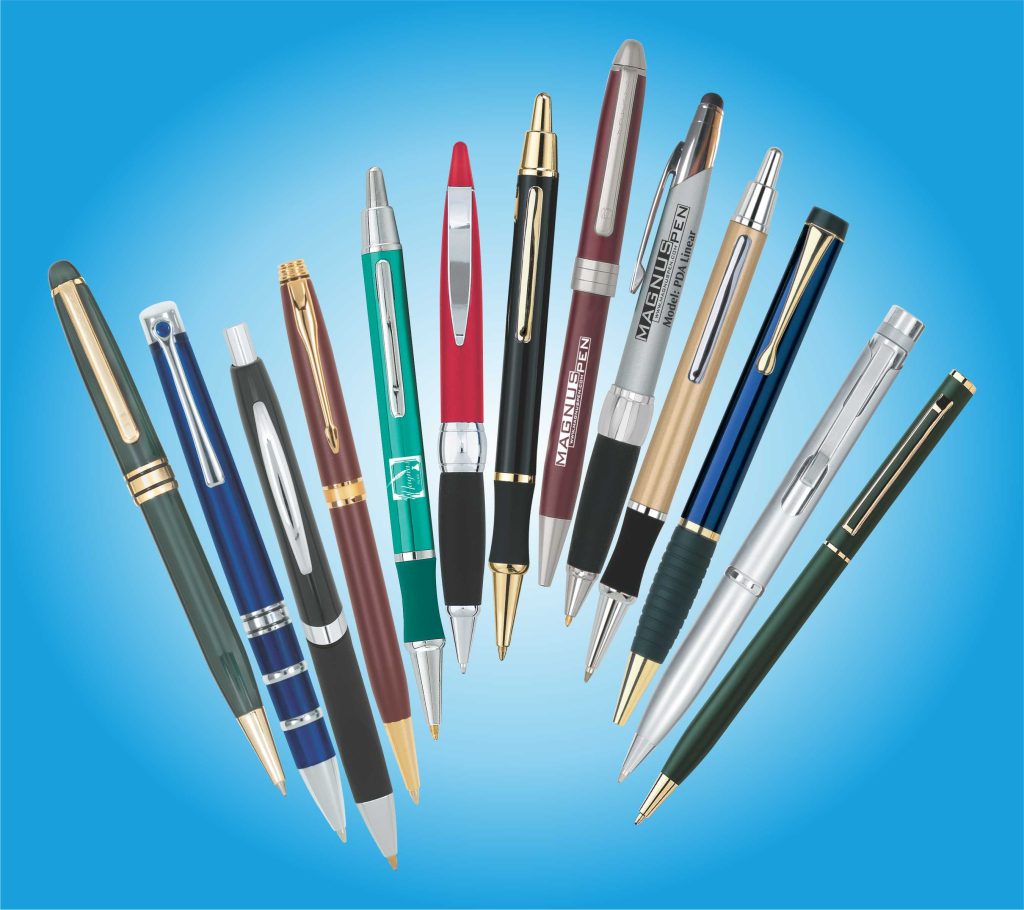 Promotional office supplies serve both the branding needs of your company and the functional needs of your clients. Branded promotional products can cover a variety of paper products and desktop items that are ideal promotional office items for both home offices and corporate businesses. In general, everyone has a need for office supplies no matter where the office is located or what type of office is their "home base". You can even make sure your clients take some branded pens and notepads with them by having a supply waiting for them during a business meeting.
Does your company have multiple locations? If so, use your office supplies to present a consistent look and feel to each location. Having the same branded promotional products in each location creates a connection in the minds of the public and reminds them that the same services and mission statement apply at each location.
Finally, business-to-business (B2B) companies can send promotional office items and supplies to the corporate offices of their customers. Besides telling clients that you are thinking of them, the office supplies will be a useful gift that reminds the recipients of your business each time they use the items on a daily basis.
---
Promotional Pen Considerations to Grow Your Brand
How many times have you been in a situation where you need a pen but you can't find one in your briefcase or purse? Pens are ideal branding items that are often used as office giveaways or as a handout at a trade show. Pens are popular promotional products thanks to their usefulness and the fact that they are a cost-effective item for businesses of any size.
While it is true that just about every person can use a free pen, there are some factors to keep in mind when considering this promotional item:
Color and Ink
Consider the needs of your audience when choosing the color of the ink and the actual pen. Some companies like to use black ink while others lean towards the use of blue ink. In addition, red ink is ideal for writers and teachers who will use the pens to make edits, corrections, and notes on documents. You also need to consider the color of the actual pen. The color of the product can be chosen to reflect the colors of your brand or to project a certain image (such as green giving an eco-friendly image). The type of ink that is in the pen needs to match the overall message you are trying to deliver with the item.
Looking to reach an older and/or more sophisticated audience? Think about choosing ballpoint pens instead of fountain pens.
Want to make sure your pens stay in the hands of their audience for a longer period of time? Fountain pens can be refilled which makes them last longer. On the other hand, ballpoint pens do not cost much to produce so they can help stretch a budget and be presented to a wider demographic.
Style
Promotional pens are available in a number of closing styles. Click/Retractable pens do not have a cap so they can be opened easier and also closed in a quicker manner. If you decide to use twist pens, remember they don't have a top so they are not likely to open on their own. The choice of pen style depends on the way your target audience will use the promo items. Some people want a pen that is able to open with a simple click while other users might want a pen that has a cap or twist opening motion so they have less of a chance to open unexpectedly and damage the inside of a purse or pocket.

Material
Plastic is generally considered to be the least expensive pen material and it is followed in price by metal and wood. Plastic pens are generally used each day by the public. On the other hand, metal and wood pens might be viewed as a novelty even though they have a compelling visual. If your audience is concerned about the environment, choose a pen made of eco-friendly materials like recycled composites.

Imprint
Imprint style options include:

Screen Printing/Silk-Screening – This print method involves transferring an image to the surface of the pen (with the printed images and text) using ink that passes through stenciled silk-screens created for each color (which means each color is applied separately). Screen printing is the ideal printing option for metal or plastic pens.

Laser Engraving – This is a printing technique that utilizes an intense, but controlled, beam of light that leaves a permanent mark for your message or logo on metal or wood pens.

Pad Printing – Pad printing covers a recessed surface of your design, with ink, and then presses a pad against the recesses so the images are printed directly onto the product (with the ideal substrate being plastic promotional pens).
---
Other Types of Office Supplies for Promotional Products
Now that we have shown you promotional pens are an ideal branded promotional item, you might be wondering about other office supplies that can be used as promotional items for your business. Here are additional promotional items that are often used to grow customer loyalty and promote a brand:
Pencils/Highlighters
Calculators
Labels
Letter Openers
Notebooks
Staplers
Paperweights
Sticky Notes/Sticky Note Holders
Tape Dispenser and Tape
---
Looking to gain new customers and keep the loyalty of current clients? Use office supplies that are sure to build additional brand awareness while also keeping you on the radar of current and future clients.
---
Contact Us Now for More Information
Phone: 770-424-2300