Sustainable Options in Printing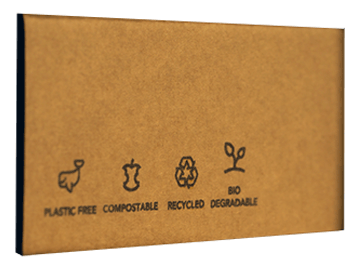 In today's rapidly evolving world, the need for sustainability has never been more important. As conscious consumers, businesses, and individuals, we strive to make environmentally responsible choices in all aspects of life, including printing. At Graphic Solutions Group, we understand the importance of embracing eco-friendly practices. In this blog post, we'll explore the sustainable options available in printing and how we're committed to leading the way toward a greener future.
---
Recycled Paper: Giving Life to Waste
One of the most accessible sustainable options in printing is using recycled paper. Made from post-consumer waste, recycled paper reduces the demand for new raw materials. It minimizes the environmental impact of paper production. By choosing recycled paper for your print projects, you can showcase your commitment to sustainable practices and contribute to a circular economy.
FSC Papers
FSC stands for Forest Stewardship Council, which is an international non-profit organization with a mission to create responsible forestry. It is the only forest verification scheme endorsed by leading environmental charities like WWF, the Woodland Trust and Greenpeace. FSC certified papers are from forests that are being managed in a way that preserves biological diversity and benefits the lives of local people and workers, while ensuring the forest sustains economic viability. 
Vegetable-Based Inks: Printing with Nature's Colors
Traditional printing inks often contain petroleum-based chemicals, which can harm the environment. Fortunately, vegetable-based inks provide an eco-friendly alternative. Derived from renewable sources like soy, linseed, or corn, these inks are low in VOCs (volatile organic compounds) and reduce harmful emissions during printing. They also result in vibrant and sharp prints, proving that sustainability and quality can go hand in hand.
Energy-Efficient Printing: Minimizing Carbon Footprint
At Graphic Solutions Group, we are dedicated to reducing our carbon footprint by adopting energy-efficient printing practices. From using energy-efficient equipment to optimizing printing processes, we strive to minimize energy consumption and promote greener operations. By choosing an eco-conscious printing partner like us, you contribute to the collective effort to reduce greenhouse gas emissions.
Sustainable Materials: Making Smart Choices
Beyond paper and ink, choosing sustainable materials for your print projects can make a significant difference. Opting for eco-friendly substrates like recycled cardstock, alternatives to polystyrene boards and using FSC-certified paper demonstrates your commitment to environmental preservation. Additionally, incorporating reusable or recyclable elements in your prints aligns with the principles of a sustainable future.
As the call for sustainability grows louder, the printing industry is evolving to meet the demand for eco-friendly practices. We offer sustainable printing options that positively impact our planet. By embracing recycled paper, vegetable-based inks, energy-efficient methods, and sustainable materials, we aim to lead the way toward a greener future.
---
Together, we can shape a more sustainable world through conscious printing choices. So, the next time you embark on a printing project, remember that every eco-friendly decision counts. Choose Graphic Solutions Group in Atlanta for sustainable printing solutions that empower you to make a difference, one print at a time.
---
Contact Us Now for More Information
Phone: 770-424-2300