Types of Promotional Printed Bags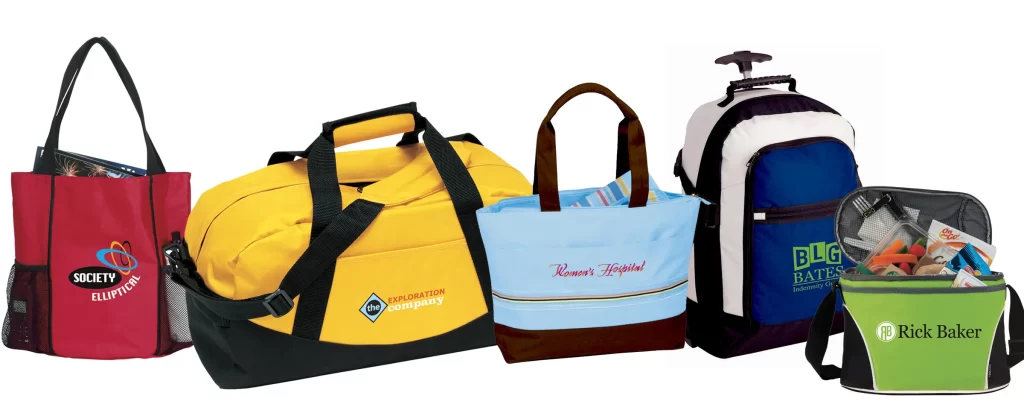 When it comes to promotional printed bags, there is a wide variety of promotional bags to choose from for gifts and giveaways to clients and customers. During the process of narrowing down your custom printed bags options, take a step back and look at your choice from the point of view of the recipient.
Who will receive the promotional bag and how will it be used? Making sure you select a bag that the person will appreciate is important to establishing your brand and creating brand loyalty for your business.
Let's take a look at some of the options you have when it comes to promotional printed bags.
---
Selecting the Best Style Of Bag
The key to a well-received promotional product is its usefulness. If the item is one the recipient can use on a regular basis, it will be more effective as a branding tool because it will be seen by others quite often. Here are some promotional printed bags choices and which audience will benefit from each option:
Backpacks
Traditional shoulder backpacks are an ideal choice for students looking for convenient book storage and transportation of supplies. They are durable and last for many years. Backpacks can be worn instead of carried and can also be used when hiking or camping.
Tote Bags
Promotional tote bags are useful for convenient carrying of anything from groceries to clothing. Tote bags with a strong plastic bottom, strong handles, and reinforced stitching make great reusable grocery bags that also benefit the environment. Slim tote bags are ideal for files and papers that need to be carried by teachers and business professionals.
Computer Bags & Cases
Computer bags and cases need to protect expensive pieces of technology. They come in all shapes and sizes and the final choice depends on the audience. Students and young adults might want a sleeve-type bag to protect an iPad or laptop while a group of professionals might benefit from a pocketed and multifunctional bag that can safely transport their computer (and other business items) to the office or business meetings.
Coolers & Lunch Bags
Reusable lunch bags and coolers are better for our planet. By distributing these eco-friendly items, you give your audience the message that you want to help them go green. Lunch bags are great for students and working professionals who bring their lunch every day. Coolers are great for sports fans who love tailgating or someone heading to the beach. Small cooler totes can even keep frozen items cold on the ride home from the store.
---
Materials You Can Choose:
The material of the promotional bags you choose is a contributing factor to the cost. Keep your budget in mind to determine the best material for your custom printed bags. By deciding about their durability, ease of cleaning, and appearance, you can better determine which option to choose.
Nylon
Nylon is a water-resistant synthetic material that is durable and easy to clean. This material can be quite lustrous so it stands out from other bags. In addition, nylon is highly resilient and resistant to insects, mold, mildew, and many chemicals.
Canvas
Promotional bags made from canvas are durable and heavy-duty. Even though canvas dries quickly, only certain kinds are waterproof.
Cotton
Cotton is a natural fiber that is not as sturdy as synthetic materials like nylon, Cotton is known for being soft and breathable which makes it an excellent choice for items like T-shirts and bags.
Leather
Leather is a sophisticated-looking material that appeals to professionals desiring a stylish look. Leather sends a classy and chic message with products that hold up well over the years. Since it is made from animal hide and skin, it may not be the best gift choice for certain audiences. If you choose leather bags as giveaways, be sure and include leather protectants and cleaners.
---
Choosing the Right Imprint Style
Here are a few options for your imprint style:
Screen Printing
Screen printing is a common imprint method that is best for cotton and canvas promotional bags. Screen printing transfers an image to the printed surface with ink that goes through a silk screen. Each screen that is used is made for an individual color and they are applied separately.
Embroidery
Embroidery is ideal for nylon bags because the image is stitched into the fabric through computer-controlled sewing machines working at a high speed. The artwork is "digitized," and then sewn using a specific color, stitch, and design.
Dye Sublimation – Heat Transfer
Heat transfer works on almost any material with full color. Heat transfer is performed using a digitally printed sheet that is applied to a bag. The imprint image is reverse-screened onto a paper-like substrate and then it is applied to the surface of the bag with heat and pressure. Keep this method in mind for colorful logos that are bold and have crisp lines.
Debossing
Debossing is the best imprint method for a leather bag. This technique leaves an impression of the artwork, that can be seen and felt, on the surface of the bag. It leaves a permanent tone-on-tone imprint that does not involve any color.
---
Start the process of choosing and producing promotional printed bags by calling our team.
Contact Us Now for More Information
Phone: 770-424-2300