What You Need To Know Before Buying Corporate Logo Apparel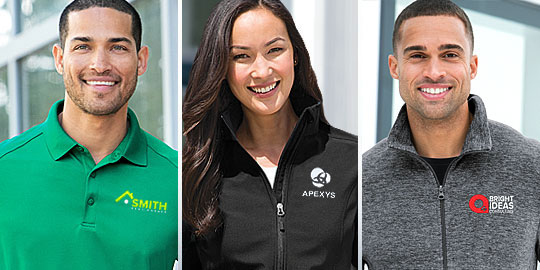 When it comes to promotional products, company apparel is the most popular category of promotional items for corporate businesses. When you put your company logo on apparel for customers or your employees, it is on display for the world to see. The increased level of exposure your brand will receive in the public eye is virtually unmatched by any other branding strategy. Corporate apparel gives you the ability to transform your team or clients into walking advertisements for your brand.
Promotional logo apparel is so popular because it has a great ROI, the clothing items can last for many years, and your brand is being advertised on items that others would like to own. Before you make a commitment to ordering promotional apparel, let's take a look at some items you need to know to make an informed decision.
---
What Imprint Style Should I Use for My Promotional Apparel
When browsing logo apparel for your company, most of it is priced "blank" which means it is priced without the imprint. The design of the imprint will help to determine the final cost and, in general, the most popular imprint styles are embroidery and screen printing (AKA silk-screening).

Each apparel item will require a set-up charge and a run charge. Please remember that the set-up charge for embroidery always includes an extra charge for digitizing. The amount of the run charge is determined by the stitch count as opposed to the number of colors in the design. The stitch count depends on the size and logo design details and the total count is normally anywhere from 5000-10,000 stitches. Keep in mind that, if your logo needs a good amount of detail or it needs to be quite large to be viewed properly, embroidery might not be the most economical choice. However, if your logo is simple with many colors, embroidery might be your best choice.

Screen printing is commonly used for items containing one to eight colors, so the set-up charge grows as you add additional colors. If you have a large logo with few colors, screen printing will be the best option to stretch your budget.
---
Selecting a Type of Logo Apparel
The selection of company apparel can sometimes be overwhelming because there are so many options. The use of corporate apparel is the right choice if you want to create a harmonious and balanced look for your staff at business meetings and trade shows.
You will recognize logoed apparel for its use for uniforms for sports teams and school uniforms that often have a professional look that is similar to corporate clothing. Activewear is the normal choice for team uniforms but don't forget about warm-up sweats. The team mascot can be wearing sweatpants or sweatshirts at any event which means your team is always spotlighting their preferred uniform even when they are the "away team" at a game.
---
Start the corporate logo apparel process by contacting our team today.
---
Contact Us Now for More Information
Phone: 770-424-2300