Why Use Commercial Printing Services Over In-house Printing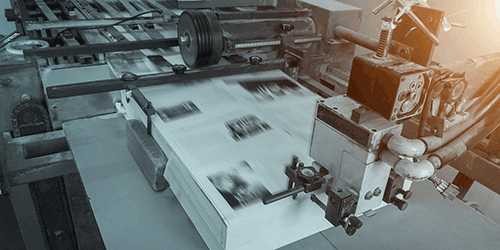 Once you are ready to create printed materials for your business, you can sometimes perform the project in-house or outsource the task to a full-service printer. Even though in-house printing might seem like a more cost-effective solution for production printing needs of any size, there are actually several benefits to teaming with a commercial printing service that save you time and money and stretch your print budget throughout the year,
Interested in learning more about why commercial printing services are a cost-effective option? Take a look at some of the benefits of using a full-service printer below.
---
Full-Service Printers offer More Expertise and Higher Quality
One of the main benefits of using a commercial printing service is the amount of expertise and high-quality results they provide your business. In general, full-service printing companies have the experience, printing knowledge and industry-leading equipment to produce printed materials that meet the specific needs of your project. In addition, they have the ability to produce a wide range of materials from business cards, flyers, door hangers, and brochures to banners and trade show displays that brand your business.
In-house printing services are often limited by the available equipment and experience of the team members performing the task. The results can be of a lower quality than you desire along with a limited number of options when it comes to a choice of material, size and finishing options.
---
How Does the Price of Commercial Printing Services Compare?
Commercial printing services provide an increased amount of efficiency and overall cost savings thanks to up-to-date, high-speed print technology and the ability to handle larger orders in an efficient and cost-effective manner. Trusting your printing tasks to Graphic Solutions Group gives your team the time they need to focus on other tasks at your business instead of performing in-house print projects.
Commercial printing companies also have the ability to bulk purchase materials and supplies so they can offer competitive pricing options that result in cost savings compared to the amount you would spend purchasing these items on your own.
---
Print Production Capabilities of Full-Service Printers
When it comes to production printing capabilities, a full-service printer can perform large volume orders under tight deadlines. In other words, they have systems in place to perform multiple projects at the same time and the resources to produce printed materials faster than in-house printing teams. If your business has fluctuating order numbers or high-volume printing needs, this can be a benefit to you when it comes to your print projects.
In-house printing is often limited by the capacity and skills of the in-house team and equipment. Production delays due to in-house team having to their "real job" as well as higher costs can be the result if you need to outsource print projects to meet deadlines or produce higher volume orders.
---
Keep in mind that a commercial printing service offers expert consultation and production capabilities that save you time and money. Even though in-house printing might seem a more cost-effective solution, using a full-service printer can ultimately provide lower costs and higher-quality results.
---
Contact Us Now for More Information
Phone: 770-424-2300