PRODUCT TEMPLATES
Templates will ensure artwork is printed correctly and are required for all products. Always use the most recent template found on our website under the "Graphic Info" tab on each product page.
Do not leave template lines in artwork
Templates are available for custom products/orders upon request
Save TIME, MONEY and HASSLE with our templates specifically created for each product!
Download Graphic and Print Guidlines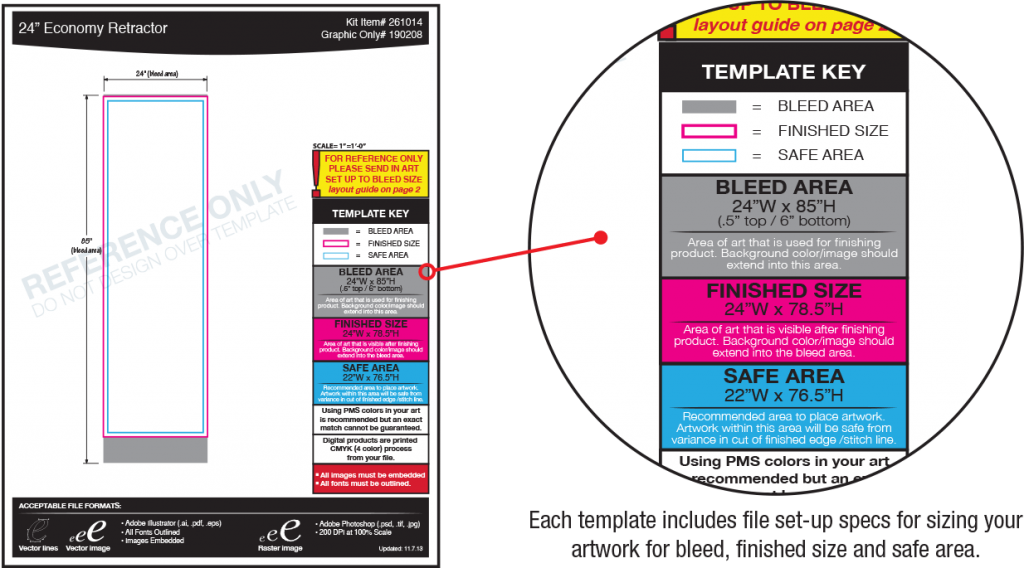 PRINT METHOD
DEFINITION
PRODUCTS
ACCEPTABLE FILES
FILE FORMAT
PRINTING SPECIFICATIONS
Full-Color Thermal
Thermal Imprinting uses the application of heat and pressure to transfer digital graphics to the surface of the fabric.
This creates a visually bold image that is strong and durable.
Table Throws, Runners, Directors Chairs, Tents, Event Chairs and Stadium Seats
Vector
w/Fonts Outlined
Adobe Illustrator
.ai / .eps / .pdf

CMYK & PMS colors
(Halftones/percentages of PMS colors and contained gradients are acceptable)
Minimum line thickness .125″ (8-9 pts. stroke)
Minimum of .25″ width & height on all elements, at actual print size

Full-Color Inkjet
Digital Inkjet printing is a method of printing from a digital based image directly to a variety of medias.
Floor & Table Top Displays, Retractors, Banner Stands, Coolers, Prize Drop Game, Sign Displays, Light Boxes and Vinyl Banners
Vector
w/Fonts Outlined and
links embedded,
Raster
w/Fonts Outlined

Adobe Illustrator
.ai / .eps / .pdf
Adobe Photoshop
High Resolution
.tif / .psd / .eps
.pdf / .jpg


Use product template to set-up artwork
PMS colors preferred (CMYK/RGB accepted)
Print-ready art (on our product templates))
Full-color artwork including gradients, raster/photo images and bleeds
Raster images must be created at actual size with resolution of at least 200 dpi

Full-Color, Dye Sublimation,Inkjet

Dye Sublimation is a printing process that uses heat to transfer ink to white fabric, allowing for full-color graphics to permeate the fabric and become part of the fibers.
Table Throws, Tents, Retractors, Fabric Banners &amp Flags, Sail Signs, Brilliant Boards;

Use product template to set-up artwork
PMS colors preferred (CMYK/RGB accepted)
Print-ready art (on our product templates)
Full-color artwork including gradients, raster/photo images and bleeds
Raster images must be created at actual