4 Considerations to Get Your Signage & Display Images Print Ready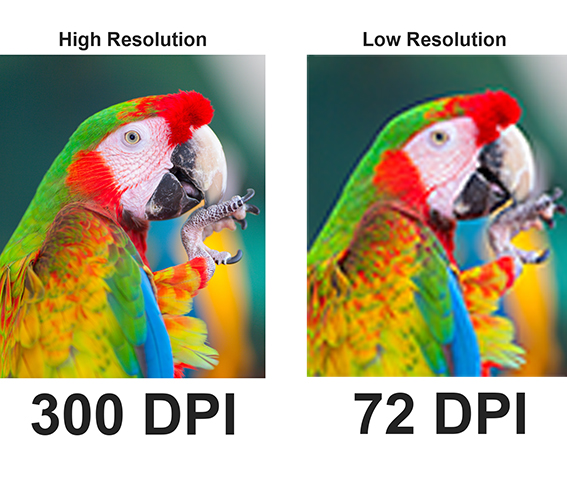 When it comes to proper display resolution, printers are often asked "What resolution do my images need to be?"
In the world of small format printing, the answer to this question is usually an easy one as the rule of thumb is usually twice the output line screen (which is around 300-400dpi). If the resolution is larger than that, the file size will increase exponentially without actually increasing the quality of the images. If the resolution is lower than that, you might see jaggedness on the edges as well as areas of contrast.
However, the answer to this question is much more difficult when it comes to large format printing resolution. Don't worry – We are here to help you. For example, you might need signage for a fleet vehicle, a display or a wall graphic but you might not know the proper format to save your print file as, the dpi for the final artwork, or other factors that impact your final print product. Take a look below as we go into greater detail about what you need to consider when it comes to resolution for large format printing projects.
---
What File Type To Use For Large Format Print Projects
Vector vs. Raster – In general, vector files are the best choice for large format printing since they can be scaled without any loss in resolution. It should be noted that it requires a special program to properly export images as a vector file. Plus, some vector artwork uses raster images within them which means you need to follow some general dots per inch (dpi) guidelines. The dpi to use for your print project depends on the viewing distance of the image and the viewing conditions of your media piece. We will discuss this below and give you a general guide to the dpi you should use.
Avoid compressing the files or use any type of compressed format, such as JPEG, unless that is the only option you have for your original images.
The file types most printers accept include:

.EPS – Encapsulated PostScript- of any type
.PSD – Adobe PhotoShop
.AI – Adobe Illustrator
.Indd – Adobe InDesign
.PDF – Portable Document Format
---
Understanding DPI For Large Format Print Materials
DPI, which stands for dots per inch, refers to the resolution that is printed on a physical printer. Basically, printers reproduce an image by spitting out tiny dots. Thus, the number of dots per inch impacts the amount of detail available and the overall quality of the print.
There is not a standard dot size or shape, which means a higher DPI does not always result in a higher quality print. The dots from one manufacturer might look just as good at 1200 DPI as the dots from another manufacturer look at 700 DPI. Books and magazines often use 150 DPI for photo reproduction while print newspapers usually use 85 DPI. Ask your printshop for guidance or consult the printer specifications to determine the appropriate DPI for your project.
---
Other Considerations When Getting Your Display Ready For Print
Both the viewing distance of the display and the display viewing conditions should be kept in mind during any print marketing production. Will there be enough illumination to properly view the signage? Will the sign or the viewer be moving?
Interior wall graphics will most likely be well lit and they will probably be viewed in an up close and personal manner. In cases such as this, a higher resolution would be necessary. For a semi trailer wrap, a high resolution is not as critical since it will be moving most of the time (and experiencing variable lighting conditions). Depending on the viewing distance and the conditions of the print material, the dpi for those products will change according to the specific conditions.
Here are some viewing distances and resolutions for typical print products under standard conditions:
Postcard Viewing Distance: 8"/DPI: 400
Letter Viewing Distance: 14"/DPI: 300
48" x 96" Poster: 5ft/150dpi
Sidewalk Signage Viewing Distance: 7ft/DPI: 125
Display Viewing Distance: 51ft/DPI: 100
---
Still have questions about getting your large format project printed? When you work with Graphics Solutions Group, we can help answer your display resolution questions and concerns
---
Contact Us Now for More Information
Phone: 770-424-2300